Vente: 374 / Modern Art 04 décembre 2010 à Munich

Lot 26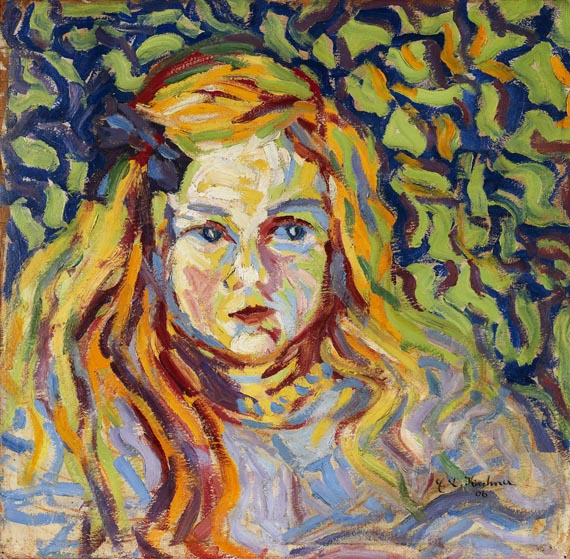 26
Kinderköpfchen, 1906.
Oil on cardboard
Estimation:
€ 600,000 / $ 636,000
Résultat:

€ 1,740,000 / $ 1,844,400
(20% frais d'adjudication compris)
Oil on cardboard
Gordon 18. Signed and dated lower right. 48,4 x 50,2 cm (19 x 19,7 in)

PROVENANCE: Artist's estateNachlass des Künstlers.
Stuttgarter Kunstkabinett.
Private collection Southern Germany.

EXHIBITION: Le Fauvisme français et les débuts de l'Exressionisme allemand - Der französische Fauvismus und der deutsche Frühexpressionismus, Musée national d'art moderne, Paris, 15 January - 6 March 1966/Haus der Kunst, Munich 26 March - 15 May 1966, cat. no. 195 (with illustration p. 271).
Ernst Ludwig Kirchner, A retrospective exhibition, Seattle Art Museum, Seattle/Washington, 23 November 1968 - 5 January 1969, cat. no. 4 (with illu)./Pasadena Art Museum of California, Pasadena/California, 16 January - 23 February 1969, cat. no. 4./Museum of Fine Arts, Bonston/Massachusetts, 20 March - 20 April 1969, cat. no. 4.
Vincent van Gogh und die Moderne 1890 - 1914, Folkwang Museum, Essen, 11 August - 4 November 1990/Van Gogh Museum, Amsterdam, 16 November 1990 - 18 February 1991, cat. no. 148 (with full page illu. in colors p. 359).
Signac et la libération de la couleur de Matisse à Mondrian. Westfälisches Landesmuseum, Münster 1 December 1996 - 16 February 1997/Musée de Grenoble 9 March 1997 - 25 May 1997; cat. no. 98 with illu in colors.

LITERATURE: Anton Henze, Ernst Ludwig Kirchner - Leben und Werk, Stuttgart Zurich 1980, p. 20 (with illu. in colors. p. 15).

Kirchner studied architecture in Dresden where he met and worked with Fritz Bleyl, Erich Heckel and Karl Schmidt-Rottluff. After finishing his studies, however, he opposed his father's wish and decided to become a painter. The intense artistic and intellectual relationship between the four artists soon led to the formation of the artist group 'Die Brücke', which, according to Schmidt-Rottluff, wanted to "attract all revolutionary and restless forces". The artists began to work on the 'Viertelstundenakte', drawings on nude models in the studio or in open nature. At first the group oriented itself to artists from Late Impressionism. The discovery of the Fauves, South Seas' art and of van Gogh led the painters to Expressionism.

Ernst Ludwig Kirchner received decisive impact for the occupation with the works of Vincent van Gogh in an exhibition of fifty of his works in the Dresden Galerie Arnold in November 1905. The exhibition was partly acknowledged by critics for its artistic reach, however, the public rather encountered the show with rejection. The same location hosted an exhibition with paintings by Edvard Munch in 1906, which did not leave Kirchner's artistic development and that of the group "Die Brücke " unaffected either.
Ernst Ludwig Kirchner's "Kinderköpfchen" [Child's Head] clearly shows notions of these inspirations and influences, particularly in terms of the application of paint. The portrait is composed in broad and pastose strokes of the brush and modeled in a paraphrasing line management. Rudimentary elements of Impressionism mix with signs of an oncoming elementary expressive statement, which is shown by the powerful strokes of the brush. The background with its lively and intricate pattern, but also the coloring as such, show notions of Art Nouveau. In his 1958 work on Kirchner, Will Grohmann described the technique on the basis of the painting "Morgen am Teich", also made in 1906: "The complementary touches of 'Parksee' are combined by Kirchner in straight and curvy rhythms, just like building blocks, they are not diffusing the light " (Translation of quote from 'Will Grohmann, E.L. Kirchner', Stuttgart 1958, p. 36). The same can be said about the artistic – technical expression of the "Kinderköpfchen", as it originates from a short transitional period, in which Ernst Ludwig Kirchner sought new means of expression by taking after the style of those artistic models that were of relevance to him. Color in this case is still a compositional element, it structures the surface without dominating it. However, the beginning strive to put an emphasis on form, a dominant feature in his works from a later period of creation, can already be observed. Accordingly, this work must be regarded in the light of Ernst Ludwig Kirchner's overall creation, as it is a prime example of the artist's quest and strong will to explore ever new fields of artistic expression.

Due to the encounter with Italian Futurist works, the group's painting style changed and became 'tougher'. Kirchner studied the sculptures at the Museum of Ethnology in Dresden, which influenced his own wooden sculptures. In 1911 Kirchner moved to Berlin. Here Kirchner discovered new motifs - city and street scenes. He painted them in a simplified manner, with sharply contoured forms, expressive features and clashing colors. The city paintings became incunables of Expressionism and made Kirchner one of the most important German artists of the 20th century. The beginning of World War I and the following years were a turning point in his life. The experience made in the war and military service caused an existential angst and led to illness and long stays in sanatoriums. The more remarkable was his artistic production of that time. Works like the woodcut' 'Frauen am Potsdamer Platz', the 'Bilder zu Chamisso's Peter Schlemihl', the self-portraits and woodcut pictures from the sanatoriums, which are counted among the highlights of his œuvre, came into existence. In 1917 Kirchner settled in Frauenkirch near Davos. The city scenes were now replaced by mountain landscapes and scenes of rural life. Around 1920 his painting style calmed down, his paintings had a carpet-like two dimensionality. Beside Kirchner also produced an extensive graphic work – woodcuts, lithographs and ink drawings. In 1923 Kirchner moved to the 'Haus auf dem Wildboden' at the entrance of the Sertig Valley where he lived and worked until he committed suicide in 1938. [KD].


26
Kinderköpfchen, 1906.
Oil on cardboard
Estimation:
€ 600,000 / $ 636,000
Résultat:

€ 1,740,000 / $ 1,844,400
(20% frais d'adjudication compris)
Offres sur Ernst Ludwig Kirchner
Ce qui pourrait encore vous intéresser
Ernst Ludwig Kirchner - Objets vendus